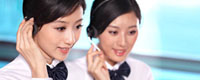 Name: Chain Xu
Tel: +86-519-8985-1850
Mobile: +86-185-5109-0083
E-mail: chain@tremensteel.com
Skype: chain.xu
QQ: 1142896929




Product name : sanitary stainless steel pipe and fittings

Item : 201672720574
Details:
Sanitary stainless steel pipe and fittings


Standard: ASTM A312, ASTM A554, ASTM A790, EN10216-5, EN10217-7, JIS G3468, JIS G3459
Grade: 304, 316L, 321, 310S, 1.4301, 1.4307, 1.4404, S31803, S32750, 904L, Monel 400, Inconel 800
W.T. range: 1mm-40mm
Surface:Pickling, 400grit polishing, 600grit polishing, mirror finish


Package: Wooden cases or Bundles with plastic paper protected.
Delivery: Shipped in 35-40days after prepayment.
Chemical Composition(%)

Grade

C

Si

Mn

P

S

Cr

Ni

Mo

N

Cu

201

≤0.15

≤0.75

5.5~7.5

≤0.060

≤0.03

16.00~18.00

3.5~5.5

-

-

0.08

1.5

202

≤0.15

≤1.00

7.5~10.00

≤0.060

≤0.03

17.00~19.00

4.0~6.0

-

≤0.25

301

≤0.15

≤1.00

≤2.00

≤0.045

≤0.03

16.00~18.00

6.00~8.00

-

302

≤0.15

≤1.00

≤2.00

≤0.035

≤0.03

17.00~19.00

8.00~10.00

-

304

≤0.07

≤1.00

≤2.00

≤0.045

≤0.03

18.00~20.00

8.00~10.50

-

304L

≤0.030

≤1.00

≤2.00

≤0.045

≤0.03

18.00~20.00

9.00~13.00

-

310S

≤0.08

≤1.00

≤2.00

≤0.045

≤0.03

24.00~26.00

19.00~22.00

-

316

≤0.08

≤1.00

≤2.00

≤0.045

≤0.03

16.00~18.00

10.00~14.00

2.00~3.00

316L

≤0.03

≤1.00

≤2.00

≤0.045

≤0.03

16.00~18.00

12.00~15.00

2.00~3.00

321

≤0.08

≤1.00

≤2.00

≤0.045

≤0.03

17.00~19.00

9.00~13.00

-

430

≤0.12

≤0.75

≤1.00

≤0.040

≤0.03

16.00~18.00




-

2205

≤0.03

≤1.00

≤2.00

≤0.030

≤0.015

22.00~23.00

4.5~6.5

2.5~3.5

2507

≤0.03

≤0.08

≤1.20

≤0.035

≤0.015

24.00~26.00

6.00~8.00

3.0~5.0

904L

≤0.02

≤1.00

≤2.00

≤0.045

≤0.035

19.00~23.00

23.00~28.00

4.0~5.0

1.0~2.0

INCONEL

028

≤0.03

≤1.00

≤2.50

≤0.030

≤0.030

≤28.0

≤34.0

≤4.0

≤1.4

MONEL

400

≤0.30

≤0.5

≤2.00

-

≤0.024

-

≥63.0

-

≤34.0

INCONEL

800

≤0.10

≤1.00

≤1.50

-

≤0.015

≤23.0

≤35

4.0~5.0

-

≤0.75

Ti≤0.6

Al≤0.6